CrossFit TFA – CrossFit
Inspiration
"The mind is the master and the body is the servant."

-Steve Cotter
Warm-up
Warm-up (No Measure)
I. Game Day

II. Rowing technique practice with progressing intensity:

10 pulls @ easy pace/perfect form

30 second Plank Hold

15 pulls @ moderate pace/perfect form

30 second Plank Hold

20 pulls (1-5 easy/6-10 mod/11-15 hard/16-20 max) perfect form
Metcon
Metcon (10 Rounds for time)
10 rounds, each for time, of:

200-m row

*rest as little as needed between rounds
Scaling: complete each effort with maximum intensity. with short all out sprint efforts of rowing the tendency is to shorten the pull. focus today on keeping a long, strong drive and pull, and increase your strokes per minute compared to paced metcons. strive to complete all 10 rounds with as little rest as needed. if you being to have +5 second increases from your baseline, rest longer, or consider decreasing the rounds.
News
November 17 6pm- #TRUEFAM Feast- The Holidays bring with it many overindulgences. Join us for a feast focused on teaching ourselves how to TREAT ourselves and not over do it! All are welcome! Please bring a dish and list the macros per serving. We can help with that if you have questions.

_____________________________________________________________________________________________________
*Grab a partner and sign up for Gracindabel: https://events.membersolutions.com/event_register.asp?content_id=76989
**UPCOMING EVENTS**

October 27- Barbells for Boobs: https://www.barbellsforboobs.org/fundraiser/truefitathletics

October 30 (UPDATED)- Costume WOD- best costume of the class gets a FREE 02 or FitAid and doesn't have to do Burpees

November 17 6pm- #TRUEFAM Feast- you heard right!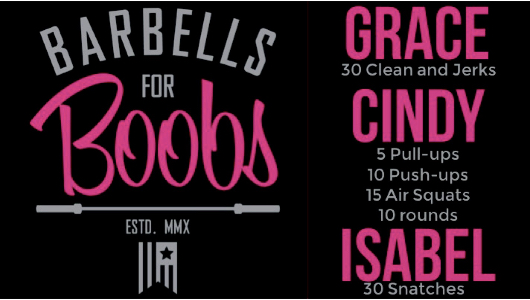 2 days…are you ready?