CrossFit TFA – CrossFit
Inspiration
"You are what you settle for."
-Janis Joplin
Warm-up
Warm-up (No Measure)
I. Dynamic
II. 3 Rounds
4 Single Leg DL to Push Press each side
5 Slow Pushups
6 Walking Lunges each side (may add weight)
III. spend 5-10 minutes using lightweight practicing the Tempo DL making sure you uphold the correct cadence and touch and go requirements. you may use this time also to practice the Prowler and get an idea of where you want to start.
Metcon
Metcon (Weight)
5 Rounds not for time
5 Tempo Deadlift (3 seconds up, 3 at top, 3 down, touch and go)
50ft Prowler Push (inside, no stopping)
10 Dumbbell Push Press
Scaling: go as heavy as possible while maintaining the tempo requirements. Newer athletes can use this session as an opportunity to drill the movements. Score the heaviest deadlift set + heaviest weight on prowler + heaviest push press.
News
November 17 6pm- #TRUEFAM Feast- The Holidays bring with it many overindulgences. Join us for a feast focused on teaching ourselves how to TREAT ourselves and not over do it! All are welcome! Please bring a dish and list the macros per serving. We can help with that if you have questions.
_____________________________________________________________________________________________________
October 27- Barbells for Boobs: https://www.barbellsforboobs.org/fundraiser/truefitathletics
October 30 (UPDATED)- Costume WOD- best costume of the class gets a FREE 02 or FitAid and doesn't have to do Burpees 
November 17 6pm- #TRUEFAM Feast- you heard right!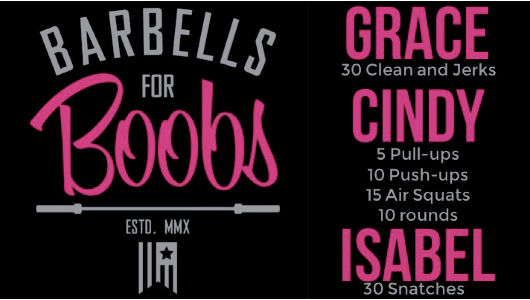 Meet her this Saturday…